Performance
17:00-20:00
20:30-21:30
Artist Talk
Pop-Up Pavillon
Guests at the Pop-Up Pavillon wear masks in the exhibition space, and outside if distancing isn't possible. Please come with a negative COVID-19 Test result no older than 24 hours, your Vaccination certificate or proof of recovery.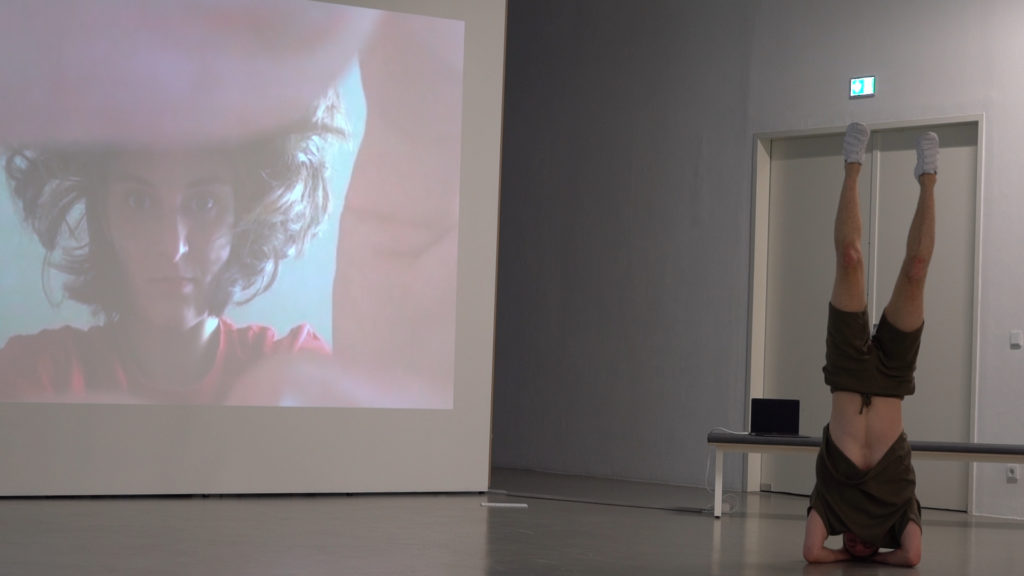 OFFLINE körper ONLINE
2018, re-worked 2020
The 3,5h long structured improvisation "OFFLINE körper ONLINE" explores the boundaries between humans and technology as well as the digital and analog world in a playful way. Klee is the only performer physically present in the exhibition space and testing possible physical connections together with Merle, who is moving on a large projection. Mischke is only audible as a voice commenting, directing and interpreting the actions. Kuki aka. Mitsuku (the world's most human-like chatbot with Artificial Intelligence) is in dialogue with Klee via text messages that are visible on a second projection.
OFFLINE Körper ONLINE won the art prize of the city of Neumünster in 2018 and in the context of the Covid-19 pandemic it was re-worked and performed again in 2020 at the Kasseler Kunstverein.
---
Merle | Mischke | Klee is a performance collective based in Neumünster (Schleswig-Holstein, DE). They are associated artists of the Theaterwerkstatt Pilkentafel Flensburg (DE).
Coralie Merle (CH), Jasiek Mischke (NL/PL) and Mark Christoph Klee (DE) are friends for many years. What all of their works have in common is a sense of comradery. Their bond creates a safe space – made tangible for the audience – from which curiosity, lightness and humor stems. They work collectively since 2018 and focus on dance, spoken and written text as well as visual arts.
With each project they explore a digital or analog performance context or an artistic collaboration which is new to them. Amongst other formats they created long durational performances for exhibition spaces, a full-evening dance piece for the theatre stage, an Augmented Reality project and an interactive website.