Exhibition and Launch
Parade Créole is an exhibition which launches artistic dress by Felisha Maria, based on Anna Muthesius' Das Eigenkleid der Frau and Frantz Fanon's White Skin, Black Masks. Co-curated by Katharina Kenklies, the launch features works and interventions by Asambura Ensemble, David Dollmann, Merle Mischke Klee, Takashi Sonoda, †een▲ge g☺d and Maque Pereyra of Yoggaton.
Launching Eigenkleider
The exhibition Parade Créole celebrates performative individuality.
Music, costumes, and movement, are the subject of the featured artistic works. Accompanying workshops and lectures are also intended to stimulate a creative discourse on topics such as identity, gender performance and self-expression.
By creating 'Artistic Dress' – Eigenkleider – for herself and three other creatives from the Caribbean Diaspora, Felisha Maria is trying to subvert the idea of the creation of a scene of public violence. In the inevitable Spectacle of the colonial body's navigation of oppressive capitalist societies, Masquerade is used as a tool in the public negotiation of identity whereby new, purchased narratives are created.
In this project thus far, purchased narratives have manifested as Trinidad &Tobago Carnival experiences, a published volume, an own fashion brand and the exhibition launch of this project's very garments. Each manifestation is taken as – for the individual identifying as female in the Caribbean Diaspora – a costly Masquerade oriented towards a spectatorship within the geographical and digital diaspora.
The artist begins to investigate the contexts of this diasporic spectatorship by launching the project in Germany, inviting discussion and exchange via curatorial devices, artist talks and workshops culminating in a publication designed by Káschem Büro. The launch features a choreography by the collective Merle Mischke Klee, photography by David Dollmann, spiritual activism by Maque Pereyra and other art-making practises which encourage dialogues of transplantation.
Eigenkleider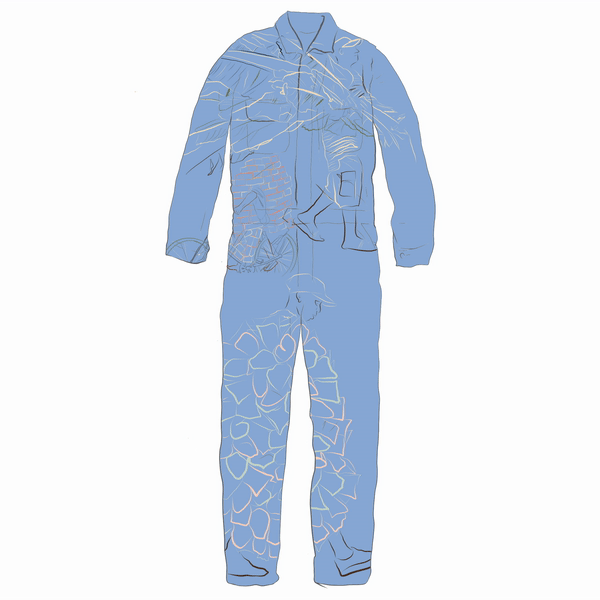 Read more about Artistic Dress, Research Aesthetics and the Colonised Body.
---
Artists and Locations
Katharina Kenklies and Felisha Maria have invited 6 different artistic positions, which will interact with each other as well as the garments of Parade Créole, in 3 different Locations in the city of Kiel, Germany, in the Autumn of 2021.
Pop-Up Pavillon
Alter Markt 17, 24103 Kiel
Felisha Maria
Parade Créole: Whirlwinds of Being
felishamaria.com
The first Eigenkleid. Felisha Maria utilises a dynamic display system from MOKIT for the aesthetics of her research on the working bodies of Shanya Greene (Baglady Basics), Dr. Glenda-Alicia Leung (ed. When Creole and Spanish Collide) and Dr. Ayesha Prout (Children's Authority of Trinidad and Tobago), as well as reflections on her own artistic practise, existential precarity and self-presentation. In the mechanics of diaspora, each body's negotiations of volatile space are manifested as elements of dis/play found in couture, linguistics, psychology and movement.
Merle|Mischke|Klee
OFFLINE Körper ONLINE
merlemischkeklee.com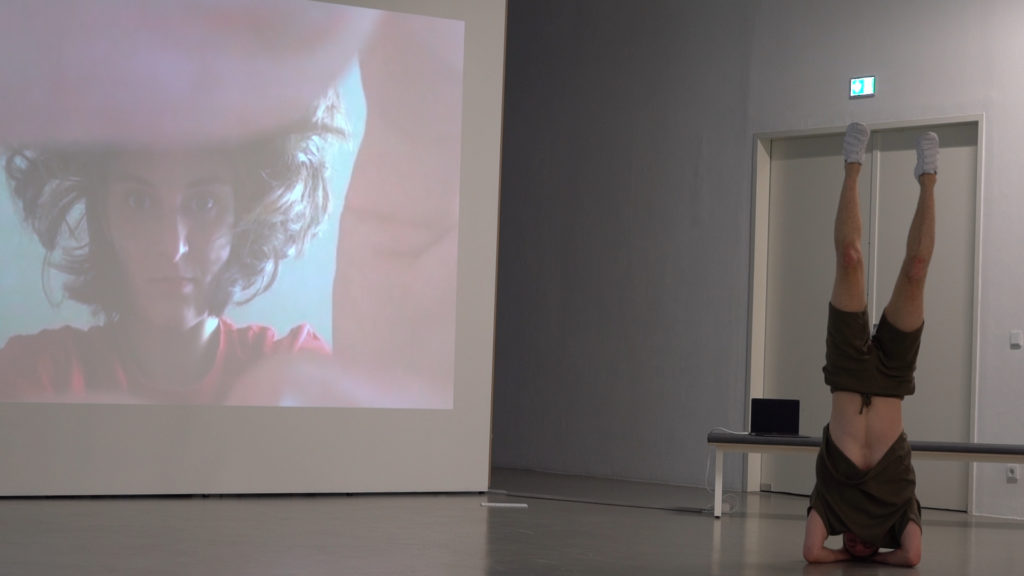 The 3,5h long structured improvisation "OFFLINE Körper ONLINE" explores the boundaries between humans and technology as well as the digital and analog world in a playful way. Klee is the only performer physically present in the exhibition space and testing possible physical connections together with Merle, who is moving on a large projection. Mischke is only audible as a voice commenting, directing and interpreting the actions. Kuki aka. Mitsuku (the world's most human-like chatbot with Artificial Intelligence) is in dialogue with Klee via text messages that are visible on a second projection.

Asambura Ensemble
KALEIDOSCOPIA
asambura-ensemble.de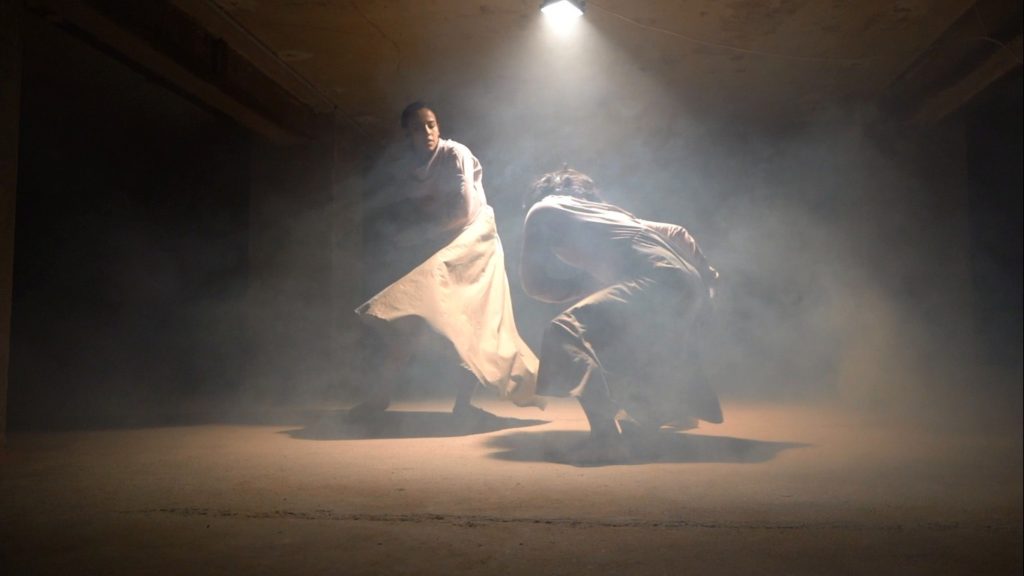 Asambura reinterprets and re-contextualises classical music using perspectives which stem from intercultural and interreligious dialogue. The interdisciplinary cycle KALEIDOSCOPIA reflects themes of closeness, distance, isolation and parallelism with the inclusion of sound, dance, light and (video) projection. A 13-minute video by Ghazaleh Ghazanfari will be shown.

Takashi Sonoda
Die Blumen, die an der Klippe stehen
takashisonoda.com
gallery-cubeplus.com
The boundary between the mountains and the sea in Unatsura on Tsushima Island, where the Ougon-Oni-Yuri lily used to grow, is a steep cliff. In the mountains, where many deer or wild boars live, there is a risk that the flower will be eaten. The cliffside is the only safe place that the animals cannot reach. For the flower, it is a space between danger and safety. I turned into a leaf of the Ougon-Oni-Yuri lily and walked holding the flower in my hand while looking for refuge on the cliffs of Tsushima.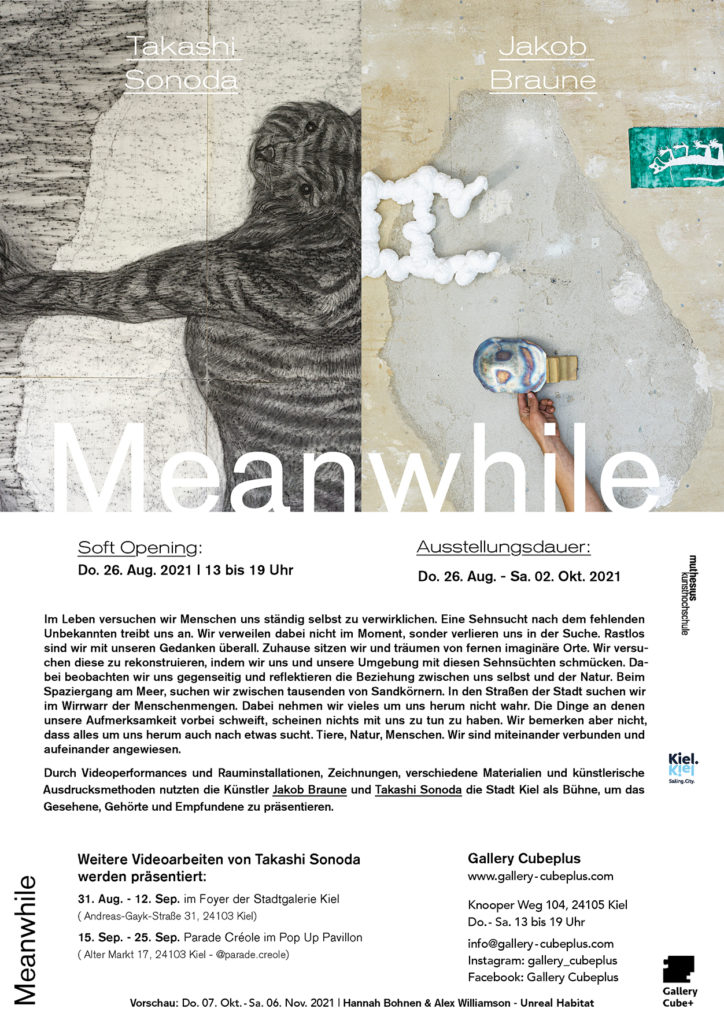 Takashi Sonoda is a guest of Gallery Cube+
Meanwhile /Takashi Sonoda and Jakob Braune /
26.8. – 2.10.2021 / Gallery Cube+

Hoop.Raum für Visuelles
Wilhelminenstraße 13, 24103 Kiel
David Dollmann
Tanguero
daviddollmann.com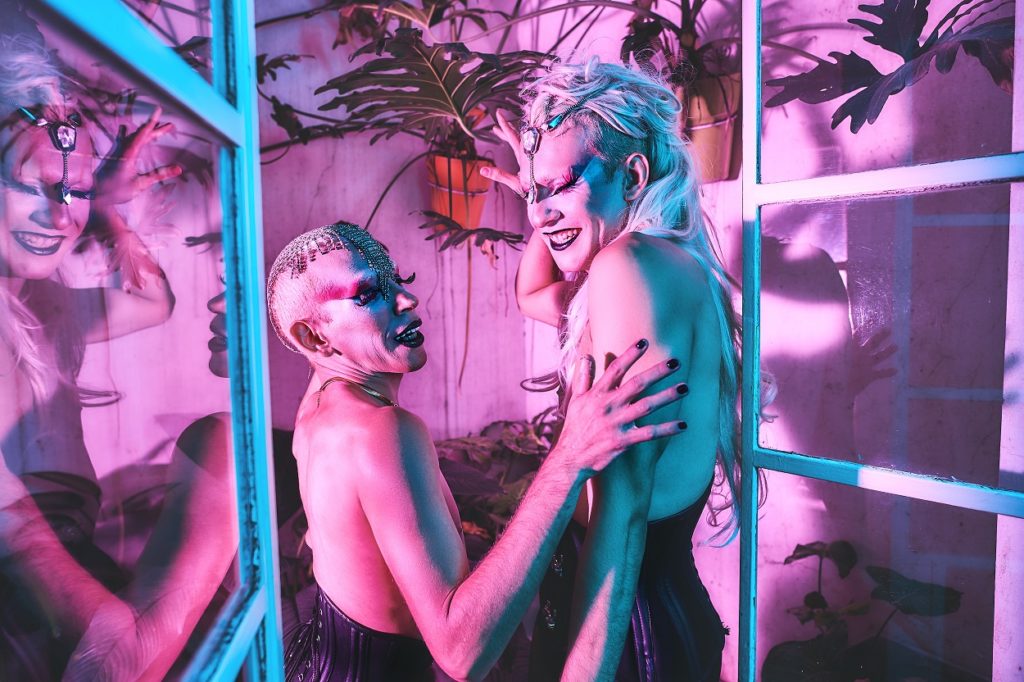 In David Dollmann's photographic work, the Berlin-based artist tries to come very close to people while maintaining a certain distance in order to give the viewer space for their own interpretations.
His work is not about providing answers, but about the possibility of asking questions. His documentary travels have taken him to New York, Istanbul, Cuba, Morocco, the Balkans, India, Iran, Scandinavia, Tanzania, Portugal and most recently to Madagascar.

Maque Pereyra
Yoggaton
yoggaton.com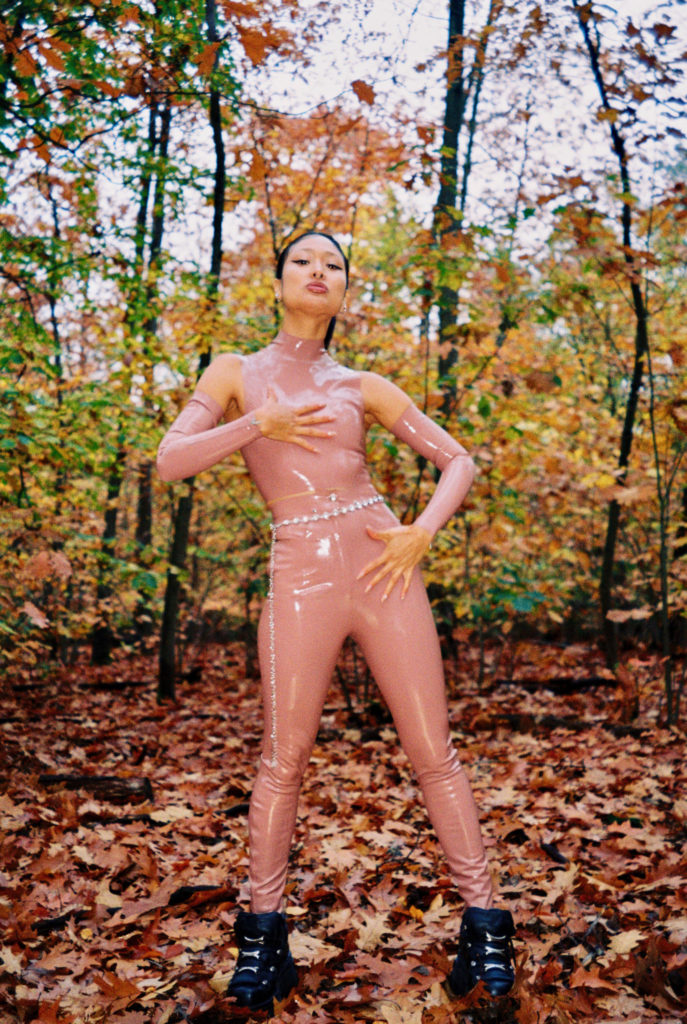 The practice of Yoggaton is the intersection of Yoga & Reggaeton. It is a movement practice nourished by spiritual and pleasure activism and perreo to work on physical, emotional, mental and spiritual levels to decolonize our bodies and challenge binaries.
Maque Pereyra is a Berlin multidisciplinary artist, psychologist and pleasure/spiritual activist. In 2018 she finished the MA SoDA program at HZT. A DAAD scholarship in the field of performing arts was granted to her from 2016 until 2018. In her home country, Bolivia, she obtained a BA degree in Psychology in 2014. Her artistic work (performances, videos, workshops, etc) has been awarded and presented internationally on platforms such as Tanztage Berlin, Tanzquartier Wien and HKW. In 2019 she received the Studio Grant at District Berlin with the research 'Yoggaton as empowerment and decolonial body practice'. The focus of her work is on healing, empowerment through pleasure and spiritual activism, decolonial/cuir aesthetics-practices and knowledge production/reflection with and from the body.
4.10. – 17.10.2021
Felisha Maria
Parade Créole: The Creature Preparing
felishamaria.com
Four Eigenkleider, the product of artistic research on textiles, breath, work-from-home-aesthetics and post-pandemic trauma, are dis/played in the showcase windows of hoop. Raum für Visuelles.
Futur3: Floß
An der Hörn, Kiel
25.9.2021
Armando Navarro and Hugo Laporte
†een▲ge g☺d
The Dancing Plague
facebook.com/teenage.god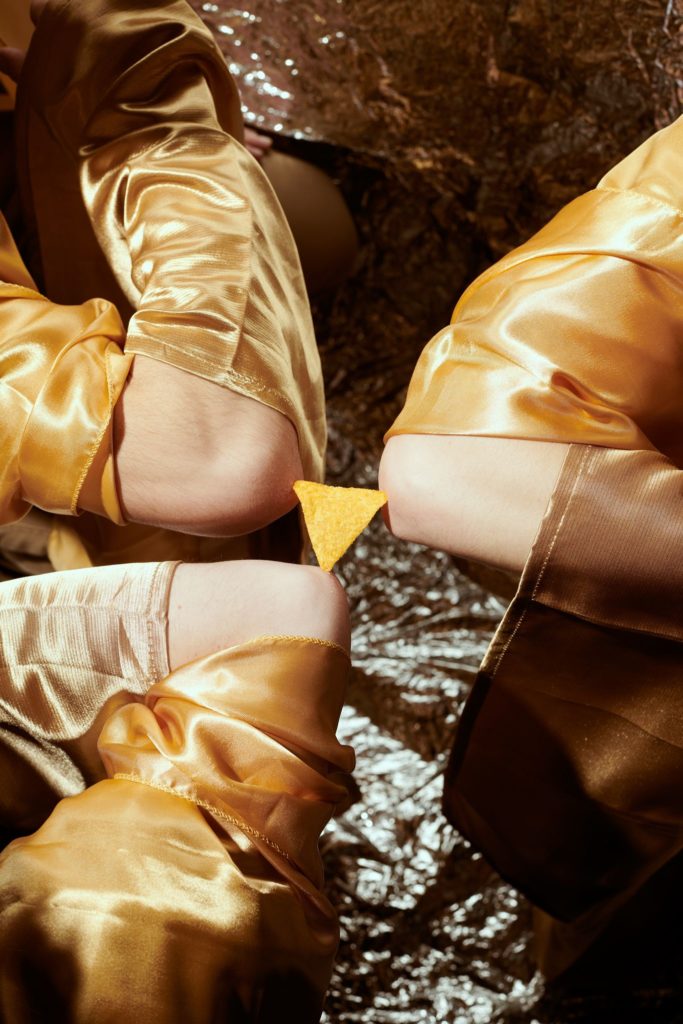 †een▲ge g☺d is a multimedia and interdisciplinary collective that explores the limits between religion and pop culture, audience and performer, high and low art. Selfie stick sculptures merge the aesthetics of religion and of pop culture, mystical and social ritual by fusing the selfie stick with the Druid's and the pilgrim's staff and also exploring the figure of the shepherd's staff via the theme of the pop star and the cult leader guiding their flock of fans and devotees. This use of sculptural items as tools for performances is also inspired by the rich history of performative sculptures like Franz West's adaptives or the theater props of Guy de Cointet.
†een▲ge g☺d is also a guest of Futur3 Festival
The Dancing Plague / Futur3 Festival /24.9. – 2.10.2021 /
Flämische Straße 6-9, 24103, Kiel
---
Events
Vernissage/Performance
Pop-Up Pavillon
Wednesday, 15th September 2021
17:00
Merle|Mischke|Klee – OFFLINE Körper ONLINE
from 20:30
Artist Talk with Mark Christoph Klee

Workshop
via ZOOM/ hoop.Raum für Visuelles
Saturday, 18th September 2021
11:00-12:30
Maque Pereyra – Yoggaton
from 12:30
Artist Talk with Maque Pereyra

Performance Lecture
Pop-Up Pavillon
Wednesday 22nd September, 2021
19:00
Parade Créole – The Creature Preparing
Artist Talk with Felisha Maria

Performance
Floß, an der Hörn, Futur3 Festival
Saturday, 25th September 2021
20:00
†een▲ge g☺d – The Dancing Plague

Performance Lecture
Hoop.Raum für Visuelles
Wednesday, 13th October 2021
19:00
Parade Créole – Whirlwinds of Being
Artist Talk with Felisha Maria
---
Curators
Katharina Kenklies wurde am 17.8.1989 in Minden (Westf.) geboren und lebt seit September 2009 in Kiel. Im Jahr 2018 schloss sie ihr Studium an der Muthesius Kunsthochschule in Kiel im Fach freie Kunst mit dem Master of Fine Arts ab. Seit 2016 arbeitet sie als Kunstpädagogin und Illustratorin. Im Jahr 2020 erwarb sie im Rahmen einer Weiterbildung das Zertifikat zur geprüften
Kulturmanagerin und war vertretungsweise für ein Jahr im Kulturbüro der Stadt Neumünster tätig. Dort lag der Schwerpunkt ihrer Tätigkeit im Bereich der kulturellen Kinder- und Jugendbildung, sowie auf der Konzeption, Organisation und Durchführung des jährlich stattfindenden Kulturfestivals "Kunstflecken".
Seit Beginn 2021 ist sie im Studio Hoop in der Wilhelminenstraße in Kiel für die Ausstellungsorganisation in den Räumlichkeiten des Studios zuständig.
Felisha Maria ist eine Artistic Researcher, die in Kiel und Paris lebt und arbeitet. In ihrer Auseinandersetzung mit der Rekontextualisierung von Kulturgütern im deutsch französischen Sprach-, Literatur- und Geschichtsraum setzt sie Malerei, Texte und interaktive Installationen ein.
Ihre aktuellsten Projekte untersuchen Tribut und Gewalt an bestimmten Orten, wie zum Beispiel Straßendenkmäler, Demonstrationen und andere temporäre Interventionen im öffentlichen Raum. Dabei erforscht sie wie verschiedene Spuren und Erinnerungen konstruiert, gelöscht, archiviert oder überliefert werden.
Zusätzlich zu ihrer Forschung zu und Entwicklung von Künstlerkleidung anhand von den Impulsen des Oeuvres Anna Muthesius, bietet sie seit 2019 Workshops und Vorträge an, in denen sie intersektionale Muster in der post-feministischen Literatur aussucht und in Frage stellt.
---
Partners
Parade Créole also features the work of Kàschem Büro, LAROID, Baglady Basics, MOKIT, Catharina Rahlff and Lou Ripoll of Bleu Tango.
Jihae An and Gallery Cube+ contributed enormously to the organisation of the exhibition and events.

Parade Créole, the Exhibition and Launch, is funded in part by the Schleswig-Holstein Ministry for Education, Science and Culture and the City of Kiel.
The Artistic Dress Project Parade Créole is funded by Neustart Kultur from the Bund für Bildende Künstler.